MC Spotlight
From this small beginning it was shown to me to be like streams of light that went clear round the world. EGW, LS 125
FEATURE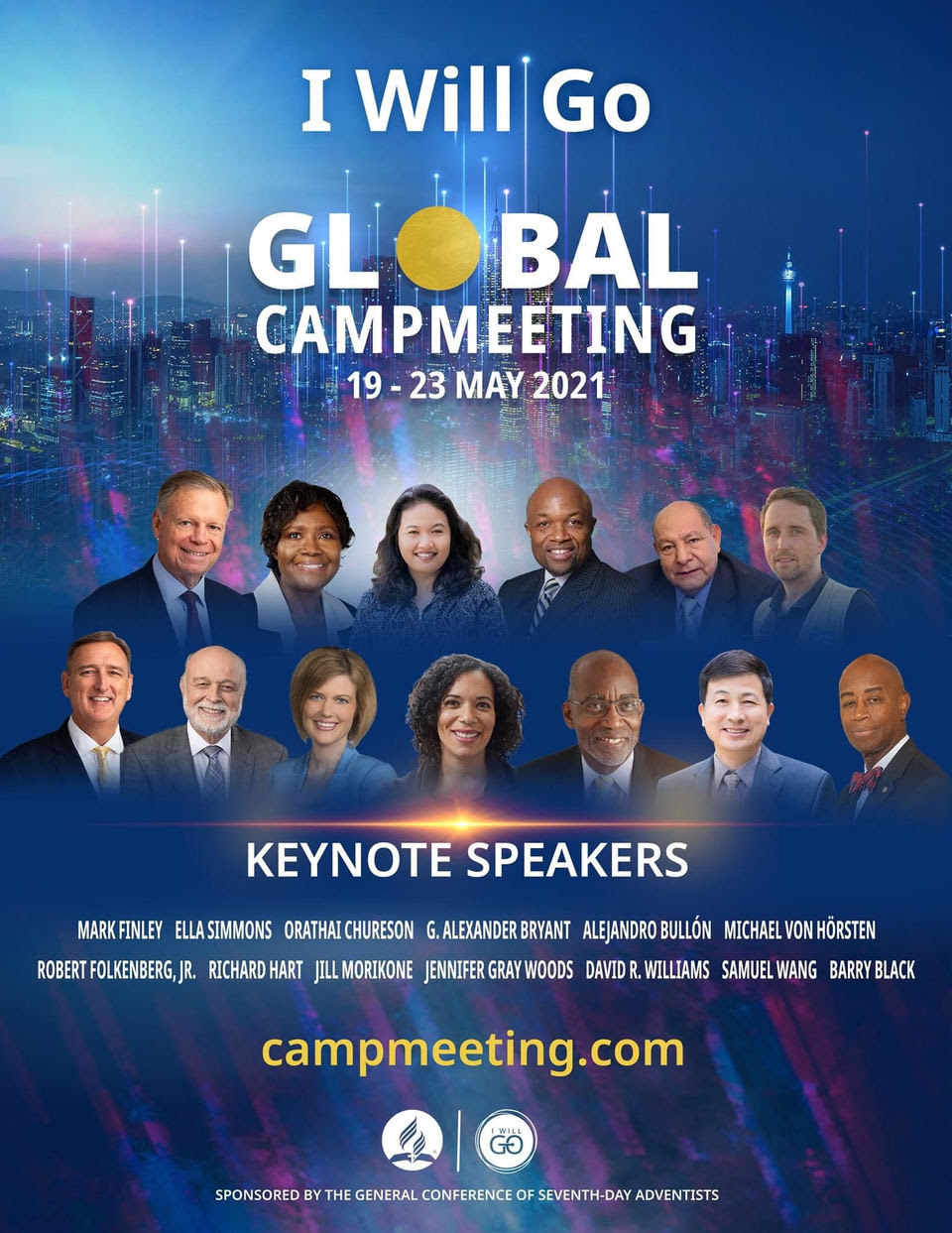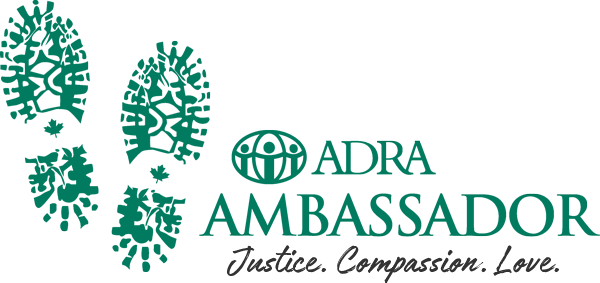 Dear Church members and friends,

When a disaster strikes the Maritimes, who will be ready to respond?  Who will be  prepared to know how to help the most effectively? ADRA wants to train YOU!  The conference would like a group of people they can call on to help with disasters in our provinces.  Join us MAY 30, 12:00 pm - 2 PM. for ADRA's Disaster Response Training and Emergency Preparedness.  Please feel free to share the poster with all you know.  Church members and community members, ADRA would like to train everyone who is interested.  
See you May 30!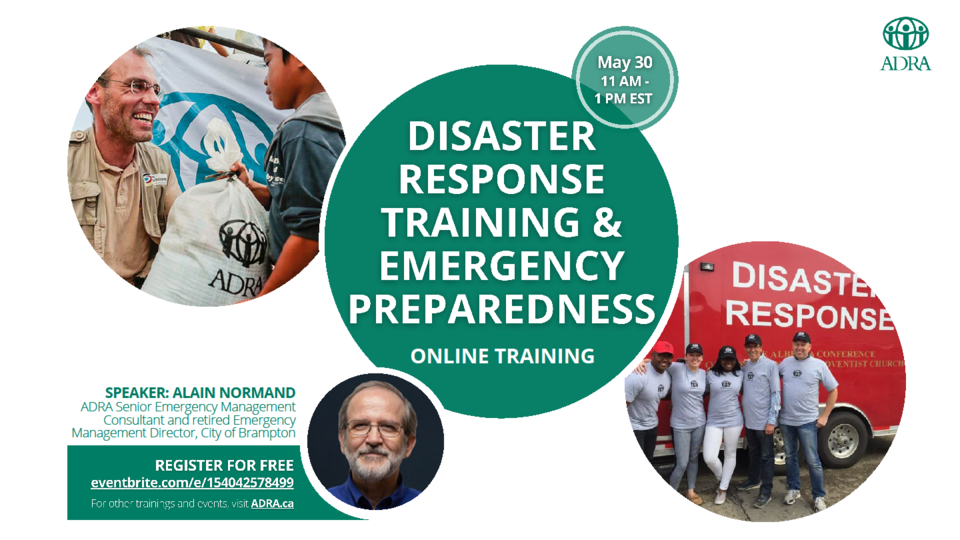 News / Events / Resources
Announcing the Maritime
Health Contest
Winners 
On behalf of the Maritime Health Ministry we would like to thank all those who participated in the Steps to a Healthy You and a Healthy Me contest! Special thanks goes to Matthew Thoms, Max Izompa, Michael Iranzi (4-7 age group), Henry and Harold Enocillas and Elizabeth Niyera (8-12 age group), and Marie Nishimwe and Rosine Niyomukiza (13-18 age group) for their original creative entries. We would also like to acknowledge the entries sent in by Marielle and MriyaJoy Symonds and the Nurse Family.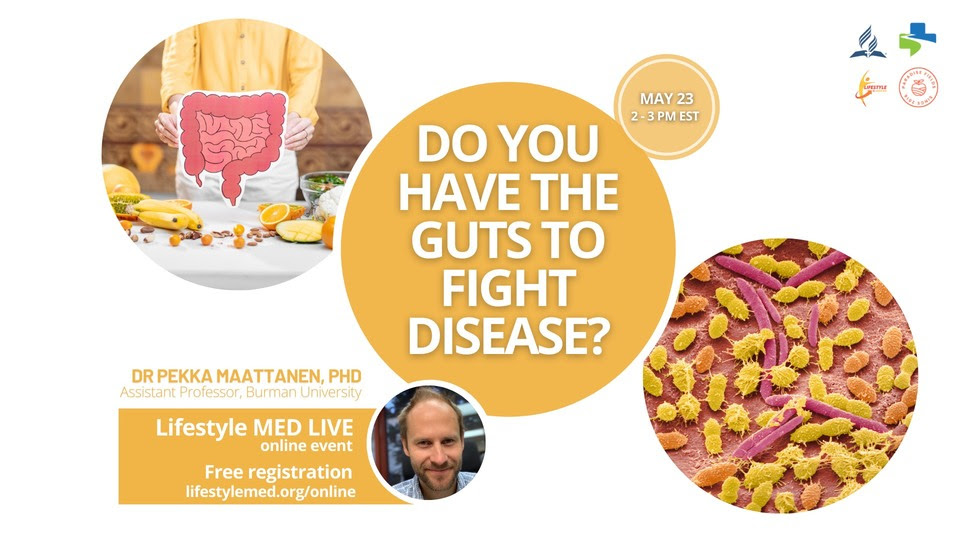 Last chance to sign up for our next online Lifestyle MED LIVE event this Sunday!
Join Dr Pekka Maatanen as we explore the link between gut, microbiome and immunity, and the lifestyle habits that will maximize your gut health. REGISTER
LIVE on May 24, 2021 7:00 PM TOOLS YOU CAN USE will feature "Grow Your Sabbath School, Grow Your Church". Methods for growing your congregation through growing your Sabbath School.

Watch on our YouTube channel at NAD Adult Ministries, on Facebook LIVE @NADAdultMIn or on our website www.nadadultministries.
World Church Prayer Requests
May 21, 2021
1. Please pray for the final days of the General Conference Global Camp meeting. 2. Pray for the ongoing 24/hour a day prayer room currently in progress. To get in on this free event, visit: https://www.2021.campmeeting.com
3. Please pray for the marriages and spouses (and personal relationships) of those in leadership. Pray that God will safeguard their homes and that they will experience a "taste of heaven on earth" as Ellen White writes.
4. Please pray for the children of our church leaders. Pray that these children and youth will come to have a deep and abiding walk with Jesus.
Please pray for our brothers and sisters in China who are currently suffering under a severe wave of government restrictions when it comes to freedom of worship. 
 

Hi Friends,

Life is filled with paradoxes: farmers preserve and multiply their grain by burying it; serotinous pinecones must be melted by searing flames for the cones to open and release their life-giving seeds.
The underlying principle of heaven's kingdom works the same way: "If you really want to live, die!"
To understand this principle, check out todays' message: Dying to Live. 
Here is the YouTube link: Dying to Live

Blessings to you and your family,
Mike and René Lemon
Hi Friends,

When you're in a slump, on the days when you're just not "not feeling it," you feel weak, helpless, and empty—like a dried-up sponge on a scorching summer day.
Sometimes all it takes to pull you out of your down day is a simple call from a friend; however, when you're not feeling it, answering the call means listening to your better judgement.
Here is the YouTube link: Answering the Call

Blessings to you and your family,
Mike and René Lemon
| | | |
| --- | --- | --- |
| |   | Youth and Young Adult Ministries of the North American Division recently released a comprehensive, digital resource to educate youth on mental health, and offer encouragement and community for those seeking help. OneTeam Mental Health is a website with material on depression, anxiety, suicidal thoughts, and wellness. MORE |
| | | |
| --- | --- | --- |
| |   | BOOST YOUR BRAIN POWER! This week's Health & Longevity show, on LifeTalk Radio, features guest Dr. Neal Barnard discussing power foods for your brain. Tune in Friday at 5:05 p.m. EDT, or Sunday, May 23, at 3:05 pm EDT with the free LifeTalk mobile app, on smart home devices, or online at  www.LifeTalk.net. The podcast will be available after air. During Mental Health Month and all year long, LifeTalk Radio brings you hope and wholeness. |
| | | |
| --- | --- | --- |
| |   | Men's Ministries resource: Joshua's Men is a year-long mentoring process that seeks to develop spiritual leaders who make an impact for the kingdom of God in their homes, their churches, and their communities. CLICK HERE to find out more; a participant guide is also available. |
 DF   V   VG   NS

A delicious treat for the Summer! Cranberries add bursts of crimson color and tart flavor to this cobbler. Serve with a vegan Vanilla Bean Banana Soy Ice Cream for a mouthwateringly decadent dessert. 
Click here for the RECIPE!


DF - Dairy-Free
V - Vegetarian
VG - Vegan
NS - Naturally Sweetened

 


Source: Forks Over Knives
& Paradise Fields
Communications Department



Communication
kəmjuːnɪˈkeɪʃ(ə)n/noun


1. the imparting or exchanging of information by speaking, writing, or using some other method
2. the means of sending or receiving information

 


If your church or department has an Event, an Announcement, or Resources you'd like shared with the whole Conference, please email: teresa.ferreira@maritimesda.com.
The MC Spotlight is an official e-publication of the Maritime Conference.