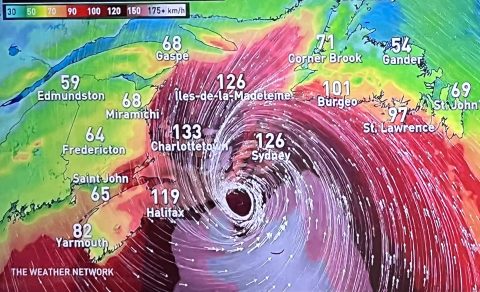 Image: Friday Overnight Wind Gust Forecast - The Weather Network
 
On September 24, Hurricane Fiona made landfall on Hart Island, N.S.,  with maximum sustained winds of 148 km/h and a minimum pressure of 931 millibars, potentially becoming the deepest low-pressure system ever recorded on Canadian soil, reported the Weather Network Digital Writers.
Hurricane Fiona has caused flooding, damage to homes and buildings, trees, power lines, and other subsequent damage as a result of high winds. Many are left without power and there is much that still needs to be done.
In their Sept 25 article, CBC News reports "As of Sunday morning, more than 256,000 Nova Scotia Power customers and over 82,000 Maritime Electric customers in Prince Edward Island — about 95 per cent of the total — remained in the dark. So were more than 20,600 homes and businesses in New Brunswick.
More than 415,000 Nova Scotia Power customers — about 80 per cent of the province — had been affected by outages Saturday. Utility companies say it could be days before the lights are back on for everyone."
To read the full articles please see the sources below.
Sources:
The Weather Network - Epic Fiona batters Atlantic Canada with destructive winds, sets records (September 24, 2022), https://www.theweathernetwork.com/ca/news/article/hurricane-fiona-makes-landfall-in-nova-scotia-historic-storm-far-from-over-prince-edward-island-newfoundland

CBC News - Fiona's trajectory, power and precipitation — illustrated in graphics (September 25, 2022), https://www.cbc.ca/news/canada/fiona-s-trajectory-power-and-precipitation-illustrated-in-graphics-1.6595312