Work and Volunteer Opportunities in the Maritimes and Beyond
Early Childhood Educator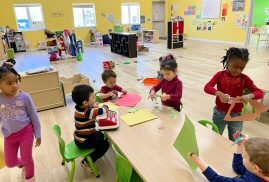 Employment | Full-time/Part-time/Casual | On site
Posting by Precious Jewels Early Learning Centre / Maritime Conference of Seventh-day Adventists
Location: Monton, New Brunswick
An opportunity awaits you to be a positive influence in the lives of young children. Become part of a team that seeks to enrich the lives of those entrusted in their care.
Responsibilities
Work with the director in planning learning and caring environments, indoors and out, using the NB Curriculum Framework for Early Learning and Child Care.
Collaborate on shared responsibilities in the classroom space.
Keep accurate and consistent daily records on children's learning, and day care regulations.
Qualifications
An Early Childhood Certificate, Community College Diploma or Bachelor of Education ECE concentration would be an asset.
Must be legally able to work in Canada
Experience is an asset but newly qualified early childhood educators will be given serious consideration
A commitment to participation in the outdoors is required
A commitment to inclusive practices that honour all individual, social, linguistic & cultural differences
Training in New Brunswick Curriculum Framework for Early Learning and Child Care would be an asset.
A commitment to working as a collective team of educators and director
Must submit evidence of completion of Standard CPR, Child CPR, SD check, a criminal check & Vulnerable Sector checks
The successful candidate will need to read, sign and comply with: Child Victims of Abuse and Protocol of the Province of New Brunswick; Evacuation Procedures, Operator
Manual and the Parent and Policy Handbooks.
Compensation 
PJELC participates in the Wage Support Program for Early Childhood Educators (WSP-ECE). All qualifying educators will be registered in the program. Added to their wages, educators will begin to receive the wage top-up after their enrollment has been approved (wage top-up ranges from $3.15-$7.25/hour).
Additional Information
Precious Jewels Early Learning Centre (PJELC) provides a well rounded curriculum for children ages 15 months to 5 years old that focuses on well-being, play, communication and literacy, diversity and social responsibility. Realizing every child is unique and deserves to be given the fundamentals essential to their development during this critical stage in their young lives.
This is an Early Childhood Educator position offering employment opportunities such as: full time, part time, and casual/on call.
To apply, email: info@preciousjewelselc.ca
Facility Operation & Maintenance Manager (Camp Ranger)
[Posted February 22, 2023 - Deadline for applications April 15, 2023]
 
Employment | Full-time | On site
Posting by Maritime Conference of Seventh-day Adventists
Location: Pugwash, NS
Reporting to the Administrative Committee, the Facility Manager is responsible to maintain an environment that is safe and well cared for and meets the needs of our camp attendees.  Our aim is to create a warm and cozy space that feels like home, is safe to be in, and provides the foundation where camp attendees may be fully present while attending and participating in our programs.  Each person who works at Camp Pugwash helps to create the "Pugwash Experience" for our camp attendees.  We work as a team to create an atmosphere that promotes Camp Ministry fostering a spirit of loyalty to the ideals and principles of the Adventist Church.
Responsibilities
Duties and responsibilities include but are not limited to:
Responsible to maintain and upkeep all buildings and equipment, including but not limited to water system, septic system, and boiler systems.
Maintain all physical property in operating condition meeting Camp Standards.
Establish work schedules for routine operational procedures according to Camp Standards.
Responsible to prioritize, plan, organize and carry out essential tasks as required.
Ensure health, safety, sanitation, and good housekeeping practices are implemented.
Organize the work of the Assistant Ranger, volunteers, and outside contractors as required.
Liaise with government and regulatory agents to ensure that buildings and systems are in compliance with Provincial Standards.
Maintain records of all inspections, required licenses and associated documents.
Maintain inventory of supplies & order supplies as required.
Requirements
Member in good standing with the Seventh-day Adventist Church
Proven ability to work independently exercising good judgment and common sense.
Experience and demonstrated competency in carpentry, operation & maintenance of power tools, large and small machinery, plumbing, boiler systems and electrical work.
Physically able to perform routine maintenance tasks; lift loads upto 100lb
Knowledge and experience with implementing health, safety and fire prevention procedures.
Understanding and endorsement of environmental conservation principles
Good verbal communication skills and excellent customer service skills
Experience and demonstrated sensitivity in working with persons of varied racial, ethnic, social and economic backgrounds.
Standard First Aid/CPR
Police Record Check is required upon application.
Working indoors & outdoors and maybe required to wear personal protective equipment (PPE)
Education:              High School or equivalent
Experience:           Three plus years of proven experience in facilities maintenance and management
Language:               Ability to communicate in English
Wage:                       $36.46/hr for 30 hrs/week
Status:                      Full-time (min 35 hours/week)
Legal Status:         Must maintain legal authorization to work in Canada
How to Apply:
Send Resume and Cover letter to:
david.miller@maritimesda.com